When diffusing essential oils are a few different types of diffusers to choose from that all work slightly differently.
Of these different types, the nebulizer diffuser is one of the least understood in terms of how it works, but is one of the cleanest, purest ways to diffuse essential oils into the air.
This guide is intended to give an overview of what a nebulizer diffuser is, how it works, and then to review and compare what we consider to be the best nine nebulizer diffusers.
Bottom Line Up Front:
I absolutely love the ArOmis Orbis Nox Merus diffuser.
This all glass and earthy wood diffuser has no plastics parts, and is constructed with great quality and care in Boulder, Colorado. It's a cool mist diffuser (so no water added), and has an automatic shut off feature for when the essential oil is done diffusing.
The price is extremely reasonable for the quality, and for the purity of the essential oil mist it emits.
ArOmis also makes 100% pure essential oils.
What is a Nebulizer Diffuser
Nebulizer diffusers atomize essential oils and then diffuse or circulate the fragrance of the essential oil into the air.
Nebulizers have three components: the base, the Nebulizer, and the pump for dispersing the oil into the air. Nebulizers are usually made with glass, metal, wood, plastic, porcelain, or ceramic materials.
The nebulizer itself is the component that breaks up the essential oil into small aerosol droplets, while the air pump is the component that sends the resultant mist out into the room area.
How Nebulizer Diffusers Work
When you turn on the nebulizer, the air pump sends condensed air through a tube in the pump to the nozzle tube, which is designed to control the direction of the oils.
A stream of air then whooshes across the nozzle's tube creating a vacuum. The vacuum sucks up the water and oil mixture from the unit's bottom into the top of the feeding tube.
The air then blows across the surface of the feeding tube at the top of the reservoir. The oil then hits the inside surface of the glass of the Nebulizer.
Quality Nebulizers have very small nozzles (the holes for spraying the oil) of between 0.3 to 0.4 millimeters in diameter. This is the first function for breaking up the oil into micro-molecular particles for sending the oil from the spray holes.
In the Nebulizer, the constant condensed air is able to disperse great amounts of oils to saturate the air with fragrance rapidly.
The glass Nebulizer itself includes the nozzle, feed tub, and the lid. Be sure you buy a glass Nebulizer since it will atomize the oils cleanly and efficiently.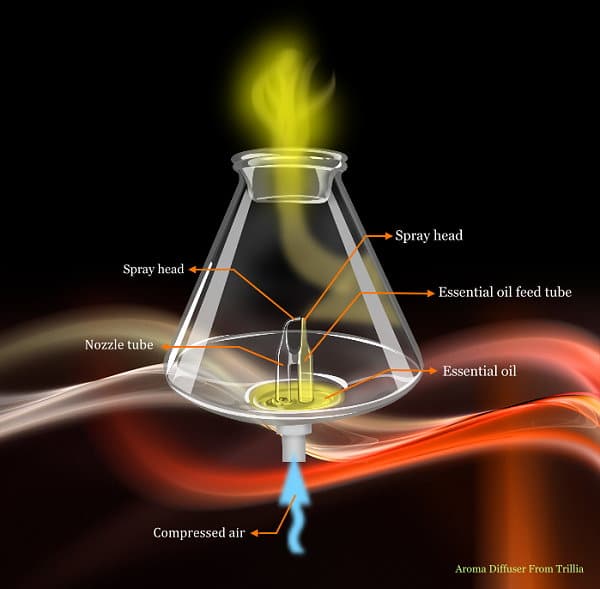 The advantages of the Nebulizer are that it does an effective job of saturating the air with microscopic particles of your favorite essential oil.
Top 9 Nebulizer Essential Oil Diffusers
| Picture | Name | Our Ratings | Review |
| --- | --- | --- | --- |
| | 1. ArOmis Professional Grade (Orbis Nox Merus) Diffuser | | |
| | 2. Organic Aromas Raindrop Nebulizing Essential Oil Diffuser | | |
| | 3. Trillia MINA III Aromatherapy Nebulizer Essential Oil Diffuser | | |
| | 4. The Pilgrim Collection Sofia Waterless Nebulizing Essential Oil Diffuser | | |
| | 5. AromaTech™ AroMini™ Deluxe Nebulizer Diffuser | | |
| | 6. Two Scents Nebulizer Wireless Waterless Essential Oil Diffuser | | |
| | 7. dōTERRA® Aroma Ace™ Nebulizer Diffuser | | |
| | 8. Smiley Daisy® Nebulizer Waterless Essential Oil Diffuser - Gardenia | | |
| | 9. Aroma-Whisper™ Essential Oil Atomizing Diffuser | | |
ArOmis Orbis Nox Merus (Professional Grade) Diffuser
Our Rating: 5 out of 5 stars
The ArOmis Orbis Nox Merus is one of the more popular nebulizer essential oil diffusers because of its cool vapor output, great automatic timer functionality, and quality construction. It's popular among professionals in massage, spa, and yoga settings.
For More on the ArOmis Orbis Nox Merus, See the Full Review.
or Compare
Organic Aromas Raindrop Nebulizing Essential Oil Diffuser
Our Rating: 5 out of 5 stars
Organic Aromas make this beautiful essential oil diffuser for your aromatherapy benefits in a light colored wood base or black wood base shaped like a raindrop made of clear hand-blown glass. Enjoy your favorite 100% pure essential oils (not included) in your home, a child's room, the office, massage studio, and anywhere for a charming look with fragrance, holistic and therapeutic benefits. Many people today are using essential oils to sharpen their focus feeling more centered.
Absolutely no plastics are used in the manufacturing of this diffuser. The stem insert is a rubber stopper for holding the glass securely to the wood base. Never add water to this unit!
Water is not used nor is heat for your aromatherapy experience. The nebulizer works by use of an atomizer to create a soft mist of essential oils into the air. You can safely use citrus oils. It will disperse fragrance up to 800-square feet. You will have a programmable mode of operating the unit for 2 minutes off, 1 minute off for 2 hours, and then it automatically shuts off. The cycle will then start over and the light will remain on.
The LED light rotates and is dim and soothing to watch with the unit's calming and deodorizing abilities. Put 2.4 mL (20 drops) of essential oils into the unit and the fragrance is delivered immediately. With the chrome knob, you can adjust the mist to be a high or low volume as you like it best.
The thicker the oils the more often you will need to clean the diffuser and that is easy following the manufacturer's instructions. You can easily clean the glass micro-tubes with 95% rubbing alcohol by cleaning with cotton swabs. Use the alcohol on the glass reservoir as well. Do not get alcohol on the wood base. Swish the alcohol around for about 5 minutes letting the unit run. Running the unit will remove any blockages. You can also put the glass in a bowl of hot water and soak for 20 minutes.
The electric pump is quiet, the unit is 10-inches high and about 6-inches wide at the base. The nebulizer uses the Bernoulli's Principle of pressure and speed. The diffuser comes with a 6-foot power cord, and is UL listed. It will run on USA 110/120-Volts with a 240-Volt adapter for those outside the USA.
A 1-year Warranty covers parts and service and is included in the box with instructions.
or Compare
Trillia MINA III Aromatherapy Nebulizer Essential Oil Diffuser
Our Rating: 5 out of 5 stars
The striking
Trillia
handmade original wood aromatherapy essential oil diffuser is refined looking. The difficult to make handmade wood base with its hand-blown glass diffuser shows its artisanship quality design with its elegant curved appearance. The MINA III is a smaller version of the hand-made glass diffuser with nozzle. Its baroque amber color leaf from the daylily is on the panel. It has an adjustable knob, is a non-slip matte finish with one elegant white LED nightlight, and is sure to please. There are no plastics in this diffuser. It is available in dream blue, dream pink, white, or wood tone. Only use 100% pure essential oils (not included) with this diffuser. No water is used for a heavenly experience for fragrance. Thick resin oils can clog the glass nozzle, so use care. These type oils require more frequent cleaning of the unit.
Quick Air Saturation
—This unit quickly saturates the air with its smart running at intermittent times using a 4-stage adjustable powerful and low-noise air pump. It will pause for one minute automatically after every one-minute of operating, and it will cease completely after a full two-hours of operation. This gives you a savings with the essential oils and power. Its power is USB 5-Volt, 1-Amp plug-and-play and is great for the outdoors as well as the interior of homes. It can be conveniently charged using your wall charger, mobile power bank, or car charger, and computer with its USB port. It is stable and will not topple over.
Easy to Clean
—To clean, use a small amount of rubbing alcohol and swish it around. It will dry almost instantly. Or use a little dish detergent, water, and a cotton swab. This Nebulizer runs for hours until it is out of water. It is an effective unit for using therapeutic essential oils. You will have a stronger fragrance with this perfect unit. The 4-stage adjustable air pump gives you the benefit of power and essential oil savings. You can adjust the running speed of the pump according to the space size.A replacement glass top is available on Amazon should you break yours below.
or Compare
The Pilgrim Collection Sofia Waterless Nebulizing Essential Oil Diffuser
Our Rating: 5 out of 5 stars
The Pilgrim Collection Sofia nebulizer diffuser has no water reservoir and uses no water for diffusing pure 100% essential oils (not included). A nebulizer is wonderful for the full fragrance and therapeutic benefits not watered down for a full aromatherapy experience with a cool mist. The Sofia is BPA (bisphenol A)-free, so no worries about toxins for you, your baby, or children.
The Sofia is used at home, at the office, and by massage therapists, aromatherapists, physical therapists, hair and nail salons, doctor's office waiting areas, dentist offices, chiropractors, hotel lobbies, and anywhere you want a heady fragrance with relaxing, calming, and healing benefits. The best essential oils will provide health and wellness for your children and you when placed into this diffuser. The aroma is wonderful for quiet time meditation, when reading a book, watching a movie, or when going to sleep.
When your unit arrives, notice the professional packaging. You will receive an extra glass insert should you break the first one. The handmade ceramic white top goes over the glass piece and be sure it fits through the hole of the white top to not break the glass and have a mist come through that hole. The long-life LED light is one color of light yellow; it can run steady or fade bright to dim. It's truly lovely and is great for mediating and putting the kids to sleep.
To put it together, the point on the top piece goes into the oak base first with the smaller piece on top of that. The instruction book shows it put together, but not that the pointed part goes head first into the base. This is the reservoir that holds the essential oil. The smaller glass piece sits on top of the big one, pointed side up. Plug the cord into the base behind the front button first. It is easy to do rather than putting into the wall outlet first.
The Italian design from Milan, Italy is breathtaking and the unit is heavy to not fall off your furniture having rubber feet to stay there. Fill the large glass reservoir with a small amount of oil or fill it to the top for a heavenly mist and fragrance. It will use oil blends as well, but stay away from thicker oils such as eucalyptus. It will cover about 215- to 270-square feet of space. I notice I can smell the fragrance 2 rooms away.
Two hours is the running time for the Sofia set at 2 minutes on and 2 minutes off. When you push the large aluminum bottom button in, it will start running. To make the mist higher, you will turn the button knob to the right, clockwise, and to lower the mist level, your will turn the button to the left, counterclockwise. The unit will shut off automatically after 2 hours and is very quiet.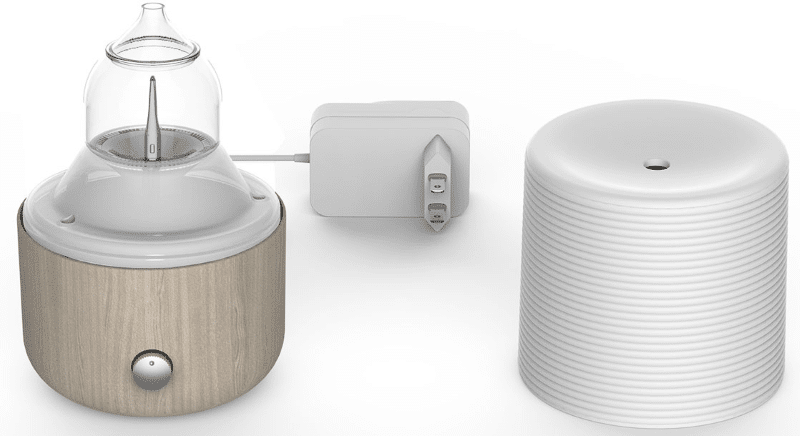 Plug the UL listed 72-inch (6-foot) cord into a USA power input of 110/120-Volt, 50/60 Hz, 0.5-Amp outlet. This cord is longer than most diffuser cords for more flexibility. The output power is 15-Volt or 500 mA at 7.5-Watts.
The cord is ETL listed for your safety and never have the plug or cord in or near water. It will cause your circuit breaker to trip and could cause an electrical shock.
The CE marking is a mandatory conformity marking for certain products sold within the European Economic Area (EEA) since 1985 and is similar to the USA's FCC conformity of declaration used on certain electronics sold here in the USA.
The Restriction of Hazardous Substances Directive 2002/95/EC, (RoHS 1), short for Directive on the restriction of the use of certain hazardous substances in electrical and electronic equipment, was adopted in February 2003 by the European Union effective July 1, 2006, and is required to be enforced and became a law in each member state.
The oak wood base is FSC-certified under the standards set by the Forest Stewardship Council (FSC). FSC-certification is given to companies and landowners to verify that they practice forestry that is consistent with FSC standards with the FSC label on wood for you to trust the sources.
The dimensions are 6.3-inches tall x 12.5-inches around and weighs about 1.3 pounds.
Gift-wrapping is available for you and a loved one. The diffuser comes with a User's Manual with detailed instructions and a 1-year Warranty and 30-day money back guarantee with five-star customer service. The Sofia is made in China.
Other Top Diffusers by The Pilgrim Collection
or Compare
AromaTech AroMini Deluxe Nebulizer Diffuser
Our Rating: 5 out of 5 stars
Of all the diffusers I have used and reviewed, this one is by far the most sophisticated, stylish, and high-tech of them all. The color is soft and easy to look at complimenting any room or table top in your home or office. It is not inconspicuous—everyone will notice its beauty as a significant fashionable piece with your décor. It is an exclusive upscale diffuser so ritzy and swank.
Being a nebulizer, you need no water that is used in an ultrasonic diffuser. Just add your 100% pure essential oil (not included) and start the diffuser misting. The wholesome aromatherapy is blissful for complete body, mind, and spirit energy synergistically. It provides a cool mist with no humidity because no water is used.
The bottle is not glass; it is a cobalt blue plastic. The typical bottle size for essential oils is brown glass usually 30 mL (1-ounce). The empty blue bottle holds 150 mL or the equivalent of four 1-ounce bottles of the regular size bottles of oils that I buy. The tube (not a straw used for drinking) attached does not reach the bottom of the bottle, so you will need at least two if not three 30 mL bottles to have the oils high enough to reach the tube to mist. The diffuser weighs about three pounds with a heavy base covered in felt. It will not slide around or move unless you move it. I love that!
It stands about 12-inches tall. The top ring is about a half-inch down, pulls apart with the bottle attached to that piece, and is a bit difficult to get off if you have 3/4-inch long fingernails as I do. Be sure to watch how it comes off to put back in the same way; check the inside mold marks to correspond to those on the inside lid.
First, however, you need to read the User's Manual that is comprehensive and well written in USA English. This diffuser has a real clock in it, not just a button to push for the number of hours you want it to run. Military time is used to avoid a.m./p.m. functions. You probably know that 13:00 is 1:00 p.m. and 24:00 hours is midnight. Set the time to start and the time you want it to turn off automatically.
The first thing you must do is set the clock. Read the User's Manual carefully. It will walk you through each step to do this. It took me about 15-minutes to get the hang of it. I keep it plugged in all the time at the correct time that's on my other clocks. The battery inside will keep the settings you programmed.
Next, follow the instructions for the mist level. You must use the + and – buttons together for the functions and the digital LCD lit clock. The light will go out after a few minutes. It's very hard to do with long fingernails, so I used two pencil bottom erasers to push the buttons down without a problem.
The unit is made of rejuvenated anodized aluminum in a matte finish. Choose from silver or titanium colors to harmonize with your home, office, spa, reception areas in hotels and doctor offices. Put it in your Yoga or Zen studio too with a more spiritual fragrance.
It will cover up to 1000-square feet of space with its included 150 mL (4-ounce) blue bottle that you fill with your favorite oil. The unit will use 0.5 mL (0.017-ounce) of essential oil each hour it is running. Depending on how long you run the diffuser and intensity level, the bottle of oil should last about a month.
You can use 100% essential citrus oils such as lemon, grapefruit, orange, mandarin, and lime including lavender, patchouli, rose, eucalyptus, ginger, lemongrass, cedarwood, ylang-ylang, sandalwood, marjoram, basil, chamomile, and more, including oil blends. Thick oils such as patchouli, vetiver, or a very thick myrrh should not be used in any nebulizer diffuser.
Essential oils hold the unadulterated chemical components of flowers, leaves, buds, twigs, bark, and roots of plants, bushes, and trees in their pure highly-concentrated structure and composition. Since the oils are highly intense and powerful, you will get the pure extract or essence of the plant in an exceedingly small quantity. You might know that Nano means one billionth of a part of something, and in this case, it's the fine particles of the essential oils. These particles are dispersed into the air for you to inhale and to be absorbed by your skin for therapeutic benefits as well as delivering a heavenly fragrance. That means the new AroMini™ nebulizer diffuser will do this complete function for you the moment you turn it on. It is whisper-quiet for sleeping.
For a 100% pure grade oil, avoid words like "fragrant oil," "perfumed oil," "identical oil," and "fragrant or flower waters." These words are a warning that the products are not pure having water and/or solvents. A solvent could be witch hazel.
I ran this without any oils—just the blue bottle filled with distilled water to use when sleeping for my sinus problems. It makes a nice small humidifier if you don't want to take out your larger one. If you do use water, be sure not to use tap water; it will clog the tube and misting port.
Clean the unit easily with about one-third of the blue bottle filled with clear distilled vinegar, citric acid, or isopropyl rubbing alcohol using a cotton swab around the threads at the top and inside bottom. Run any of the chemicals about 10-minutes, then run clear water about 10-minutes and the residual oils will disappear. Rinse well and air dry after you're finished. Plastic will retain a residual oil smell.
Plug the 4-foot UL® listed cord into a USA 110/120-Volt, 50/60 Hz outlet. If you are outside the USA, you will need to buy a 220/240-Volt adapter to make the diffuser work. The power consumed is only 2.2-Watts.
Get an AromaTech™ AroMini™ Deluxe Nebulizer Diffuser for yourself and as a gift for your best friend or family member. It is well packed and double boxed for no denting of the diffuser material. You will receive the diffuser, A/C (alternating current) adapter, User's Manual, and a 1-year Limited Warranty. It is designed in Canada, made in China, and shipped from the USA on time after ordering.
or Compare
Two Scents Nebulizer Wireless Waterless Essential Oil Diffuser
Our Rating: 5 out of 5 stars
The Two Scents diffuser is the best ever using no cords to trip over and plug in, to put in your car with no cigarette adapter plug-in, and it uses no water! It works well with its lithium chargeable battery. Use this with your favorite 100% essential oils (not included). This is the perfect diffuser for home, the office, spas, and when traveling.
You will never be wired to a wall outlet again! Put on a shelf to keep the kids and pets from it. Have a great aroma and therapeutic benefits anywhere you are. There is no fan and the mist is dispersed by an atomizer like on a perfume bottle.
Now for its extraordinary features. The essential oil bottle is attached securely to the diffuser. Simply fill it with your essential oils. No heat, no water, no mess, and no drops to count—how great is that? It has an automatic shut off sensor to turn off. It goes well with any décor with its natural light color and simple logo. It is whisper-quiet and has 12-modes of operation using different timer settings and intensity levels. There are 3 intermittent aroma intensity modes of 30-, 60-, 90-on and 120-minutes off. The timer can be set for 1-, 2-, and 4-hours or continuous.
The Two Scents uses a 1200 mA/hour rechargeable lithium ion battery. It will run 50 hours before needing a charge. At a full charge, the unit will operate for 20 to 50 hours and this depends on your intensity settings. The lower the mist, the longer the essential oils last. The diffuser will cover 500-square feet or more.
It does come with a USB A/C adapter to plug into 110/120-Volts if you want to save the battery.
The diffuser is 3.5-inches tall x 3.5-inches wide and weighs a small 7 ounces.
You might see in the box a label or paper showing a link to Prop 65. That is the California Proposition 65 (1986) regarding lithium batteries, cancer, safe drinking water, and more in California only. Look it up if you want to know about this act in detail at the link provided here.
Most nebulizers and other diffusers are loaded with lights. This unit has none of that except for a very small dim LED indicator for the functions. It is soothing as it is and can still be seen in a dark room.
Note: Only use pure 100% essential oils in the bottle attached. Do not use carrier oils, vegetable oils, coconut oils, and others. It must be used only for essential oils. It is best not to use exceptionally thick essential oils that are mainly resins. If you do, you can clog the nebulizer. If you clog it, clean it immediately with a little rubbing alcohol letting it run 10 minutes, rinse, dry and let air dry.
You will receive in the box the waterless diffuser, the USB A/C adapter cord, and extra washer, a reusable 10 mL (0.34 ounce) empty bottle, User's Manual and a 6-month Manufacturer's Warranty for your 100% satisfaction.
or Compare
dōTERRA Aroma Ace Nebulizer Diffuser
Our Rating: 4.2 out of 5 stars
dōTERRA® makes a Nebulizer essential oil diffuser that is as powerful as a magnet! It is relatively new, yet is already selling like hot cakes! Circulating more extreme energetic essential oils, it is picture-perfect for professional settings such as medical and dental offices, and a therapist's office too. It would be ideal for massage therapists, hair and nail salons, spas, and every room in your home!
Easy to Change Oils
This essential oil diffuser, dōTERRA® Aroma Ace™, is a Houdini—it changes easily right before your eyes with no spilling or mixing when you change out the oil fragrances. And the timing—that could not be easier. With the unit's flexibility, the output quantity control lets you choose the concentration and amount for your exhilarating connection with the fragrant air.
Advanced Technology
The dōTERRA® is the most advanced essential oil nebulizing diffuser system in the marketplace today. It uses the "cold diffusion" technology for upholding essential oil therapeutic benefits and its natural essence. The dōTERRA® protects and defends against bacteria and viruses.
The leading edge technologically advanced dōTERRA® compact design comes with a built-in timer for turning the unit off and on and operating the internal timers. It has controls for adjustments. This first-rate aromatherapy diffuser will bring spa-quality effects to your home, office, hotel, or anywhere. It is the most powerful and efficient diffuser in the marketplace. The high-end atomizer technology effectively atomizes the essential oils using a micro-fine vapor dispersed into your home or office environment.
The quick-change atomizer connects to the oil bottle and pump. Having higher-pressure means a great quantity of oil is dispersed. The particles are in the air for a longer time so that you receive more benefits using less oil. When the unit is off, it saves oil never evaporating into thin air.
Superior Misting Abilities
Maintaining the natural plant extracts and physical, mental, and emotional health benefits, dōTERRA® Aroma Ace™ high-tech and up-to-date sleek and contemporary essential oil diffuser does not alter in any way the ability the diffuser has for converting the essential oils into a micro-fine superior mist. The bona fide micro particles infiltrate the air in your room undamaged and whole in their composition to release their active components for hours into your home or office atmosphere.
or Compare
Smiley Daisy Nebulizer Waterless Essential Oil Diffuser – Gardenia
Our Rating: 4.5 out of 5 stars
The Smiley Daisy® Gardenia model is another new product by this company in a silver color. It uses no water attaching a 10 mL (0.34 ounce) empty bottle included. You add your favorite 100% pure essential oils and enjoy the benefits.
The unit puts out a micro fine mist from an atomizer so it uses no fan. It will cover 500-square feet.
Smiley Daisy® provides relaxation with its aromatherapy and therapeutic benefits from your essential oils (not included). Only oils are used without any water.
Note: Only use pure 100% essential oils in the bottle attached. Do not use carrier oils, vegetable oils, coconut oils, and others. It must be used only for essential oils. It is best not to use exceptionally thick essential oils that are mainly resins. If you do, you can clog the nebulizer. If you clog it, clean it immediately with a little rubbing alcohol letting it run 10 minutes, rinse, dry and let air dry.
A nebulizer maintains the essence and purity of essential oils where the very fine particles reach your lungs quickly. Enhance you mood and elevate you concentration with this beautiful unit.
The dimensions are 4.73-inches long x 2.48-inches wide x 5.4-inches tall and it weighs about 1.17 pounds.
Plug into a USA 110/120-Volt, 50/60 Hz outlet with the 40-inch UL listed cord. Europe and other countries outside of the USA can plug it into a 220/240-Volt outlet. It has a USB cable to plug into a USP port on your computer. Direct Current (D/C) is 5-Volts at 1-Amp.
It will compliment your home décor, office, spa, Yoga studio, bedroom, living room or anywhere you want a heady aroma. The empty bottle enclosed with your unit is 5/8-inches in diameter and 2.5-inches tall. The JuJu Aroma 10 mL bottles are compatible with the Smiley Daisy® Gardenia diffuser. The diffuser is made of polypropylene and aluminum alloy. The timer can be set for 30-, 60-, or 120-minutes. Set the mist at low, medium or high. The mist interval settings are 5-, 10-, 30-, and 60-seconds.
You will receive the diffuser, A/C adapter, USB cable, 10 mL empty bottle, nebulizer ring, User's Manual, and a 6-month product replacement Warranty.
or Compare
Aroma-Whisper Essential Oil Atomizing Diffuser
Our Rating: 4.5 out of 5 stars
The Aroma-Whisper™ Essential Oil Atomizing Diffuser uses USA110/120-Volt electrical power. The beautiful unit creates a delightful fragrance in homes, offices, or any setting you choose to include it. This unit covers a larger area from 1000- to 1500-square feet. The superb Aroma-Whisper™ is an Acoustically Dampened ISO-Cell™ design that makes it number one in its class. This diffuser is nearly silent. When you want a system that is almost noise-free, the Cold Diffusion for your essential oils with the ability to detach the atomizer, is the one for you.
Helps to Distribute Scent Faster
These stunning small powerhouses disperse essential oil fragrances speedily in any area environment you choose to place it, or them. The Nebulizers can amalgamate—merge and join—the essential oil elements in a neat way. Using no heat or an evaporation process, these units retain the therapeutic properties of the oils enhancing your area to maintain the aromatic fragrances in wider directions and lasting longer. The units have on/off and automatic shut off functions.
Great Antiseptic and Purifier Qualities
Zap those germs with the Nebulizer essential oil diffuser for when someone at home feels sickly or feverish. Simply fill your Nebulizer with one of the anti-bacterial or anti-viral essential oils and let the mist flood the room with the healing qualities in the oil. Let it run all night long if the person is a sickly child—or you. Bet you will feel better in the morning. If you want to saturate the air of a room with your chosen oil or blend, this Nebulizer is for you. The room will be calming, cool, and smell good too.
or Compare
Types of Diffusers
There are 4 very popular types of diffusers in today's marketplace and each one has different purposes and performs slightly differently.
Some of the distinctions between these types are discussed to explain the fundamental differences.
Heat Diffusers

These units have been around for some time for covering small to medium places. The essential oils must be placed in its container or on a small pad for the heat to bond with the essential oil molecules for dispersing the wonderful fragrance into the air. It uses a source of heat and is primarily used for having your room smell great. A heat source is used to disperse the essential oils into the room. The oil chemistry is modified where you will not receive the therapeutic benefits of the oil. So if you only want your room to smell nice, this unit will do that.

Cold Air Nebulizer Diffuser

The temperature of the room is used to propel air into a Nebulizer. It then is vaporized for quick and effective disbursement into the air. The cold air diffuser is somewhat noisy, is messy, and difficult to clean. It does not circulate thicker/heavier oils very well. The Nebulizer essential oil diffuser is prized for its exceptional capabilities. It does not consume water or heat to diffuse the air. Heat and evaporative diffusers are not as effective as the Nebulizer is.

Why and how to choose and use the Nebulizer type of unit aromatherapy essential oil diffuser rather than the ultrasonic or humidifier types? Because when you choose a better quality aroma essential oil diffuser Nebulizer, you will want an air pump that is reliable, the most important consideration. Consider that an engine for a vehicle is like the pump inside a diffuser. It is what makes it run. The Nebulizer uses micro-fine pumps for dispersing the oils into the air. You want to purchase a quality air pump in a Nebulizer diffuser. It is impossible to know if the pump is low quality or not. We cannot look inside the diffuser to see the pump. That is why you want to buy one to protect and that is the manufacturer's warranty. Be sure the diffuser is guaranteed for 1 to 2 years or more.

Low noise is a benefit of a quality air pump being around 50 dB (decibels). A lower quality air pump will be noisy when it operates. We seem to adapt to a jet plane overhead, but do not want the noise of the diffuser in our environment space. A Nebulizer is low noise and that is why you want to purchase it.

When a diffuser is too tall or big, it will use more furniture space. This is another reason for why its size could make it fall over, so you might want to consider a smaller unit for you area.

With the ultrasonic or humidifier-type diffusers, you will need to know how to put the essential oils into the water. The ration of water to oil is more than 200:1. With more water than oil, the fragrance is less strong than when you use a Nebulizer. With the ultrasonic or humidifier-type diffusers, they produce more water into the air. The water and oils do not mix well in these units. You will see the two separated layers of water and oil. The oil will float on top of the water, therefore, the oil will not be mixed with the water. That leads to the aroma being not full-bodied and intense in your room space.

Evaporative Diffusers

A very simple to operate diffuser, it uses a fan to blow air using a filter or pad. The oil lies on the surface of the pad and is vaporized into the room. These are good for your vehicles since they are small. They are not as effective as other diffusers for larger areas.

Ultrasonic Diffuser

Electronic frequencies are used to produce vibrations where they float up to the top where the oil is. Without using heat, the vaporized oil is subsequently diffused into the room's atmosphere as a nice soft mist.

Diffusers that use heat to break down the essential oil into small particles were widely in use in the past and are still used where there is a need to cover small to medium sized places. With this type the essential oil must be placed either on a pad or in a compartment where the heat is transferred to it in order to use its molecules. In this way the aroma can be spread around where required.

Though it is best for small places or short-term use, it is good for aromatherapy. The oil is used quickly due to the fast diffusion. A drawback for this type is that when the oils are heated the oils might change due to the high temperature resulting in less therapeutic benefits.
Final Thoughts
There are thousands of essential oil diffusers available in the marketplace today. The 4 types of diffusers discussed above will help you decide the type you want providing the features you need within those 4 types. We have done the research for you to eliminate any confusion you might have.
We let you know that Nebulizer or Ultrasonic diffusers are the best of the best because they do not destroy the therapeutic benefits from the essential oils. This Nebulizer delivers wonderful fragrances and therapy providing you amazing benefits for your skin, hair, dry coughs, dry skin, congestion, and sinusitis. They are great at night with the night light on and have convenient features. Our nose knows what fragrances we like best!
We hope we have aroused within you ideas for your décor and to feel secure about purchasing essential oil diffusers and essential oils. We know you will be thrilled with the trendy styles, LED light, and the automatic shut off. Happy shopping!