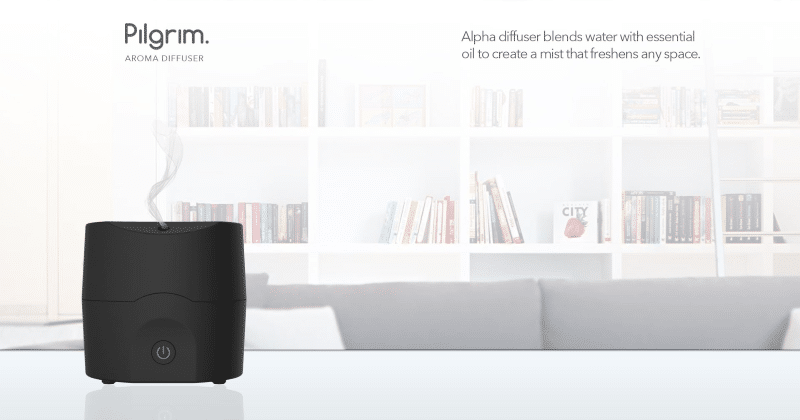 The Pilgrim® Collection Alpha is a gorgeous black rubberized exterior for easy gripping aromatherapy diffuser that provides therapeutic benefits when using 100% pure essential oils (not included). The black color is not "paint"; the color is embedded in the material.
The Belgium-created unit holds 160 mL (5.4 ounces) of water to cover 250-square feet of space. Fill the water reservoir then add the oil drops to mist properly. The diffuser will harmonize with any décor in your home, office, Yoga studio, massage and physical therapy studios, and chiropractor's offices. The unit has 5 functions being a diffuser, a small humidifier, an ionizer, an air purifier, and a night light.
The water tank is made of PC (Polycarbonate) plastic, is sturdy and resilient. You can use the Alpha diffuser with citrus oils such as lemon, orange, grapefruit, and lime. You will have no problems with peppermint and eucalyptus.
Use your favorite oils for colds, flu symptoms, dry chapped lips, and nasal and sinus congestion to feel better. The oils will remove pet and smoke odors, and will refresh your environment entirely. The unit is whisper-quiet and will automatically shut off without a beep sound when the water is gone after 8 hours in the intermittent mode. It will run as you select from 1-, 2-, and 3-hours on the timer. Just fill the reservoir with water and add 5 to 10 drops of pure essential oils for therapeutic benefits and a delightful fragrance. It will run 4 hours in the continuous mode.

The long-life LED light provides your space with a soft warm glow that kids love in their room for getting to sleep. Enhance your mood with the negative ions emitted. The lights will cascade from one color to another, or you can set it to a favorite color or no lights at all. Put a plate under it so that the moisture does not harm your wood furniture. Do not use towels—they get water logged.
You can use tap or well water, but as with all ultrasonic diffusers that use water, it is best to use distilled water. Tap water creates mineral and lime scale build up. If this happens use a little distilled clear vinegar with water and run it through the unit for about 10 minutes and with a cotton swab, carefully clean corners and rinse thoroughly, air dry, and start using the diffuser again.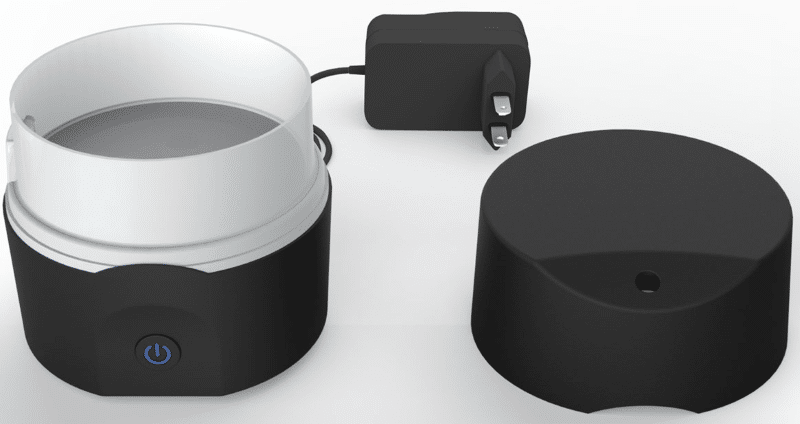 Plug the UL listed 6-foot cord into a USA 110/120-Volt, 50/60 Hz outlet.
The power is 24-Volt; 12-Watts, 0.5 Amps, 2.4 MHz and the dimensions are 5-inches tall x 5-inches wide and weighs 12.8 ounces.
You will receive the diffuser, A/C adapter cord, a User's Manual and a 1-year Warranty against any defects in workmanship. You will also enjoy having a 30-day money back guarantee if you are not satisfied with the Pilgrim® Collection Alpha diffuser.