The Homasy 3rd generation model HHM003 cool-mist diffuser holds 800 mL (27 ounces) of water that will operate the unit for 10 hours and more. The moisture outlet top head is directional and will rotate 360-degrees to the area you want to have the most mist. The wording on the Internet is confusing stating this unit is a 'humidifier.' It is indeed an essential oil diffuser. The Homasy is a 5-in-1 unit meaning it is a diffuser, a small humidifier, an ionizer, an air purifier, and a night light. For large room humidifiers, see here.
Add the 100% pure essential oils (not included) into the water. The more drops you add, the more intense the fragrance. Do not add medicine or Vicks® into this unit; it will gum up the works and destroy it—only use essential oils, not perfumes or perfumed water. Use eucalyptus for the kids' colds. The blue indicator light will blink when it is out of water. It will automatically shut off when out of water. The plastic for the water tank and cap will not corrode and are BPA-free.
The design is somewhat problematical: the unattached pieces are easy to lose: the moisture outlet on top that you turn for positon will fall out when you fill that top part with water. The User's Manual does not tell you how many drops of essential oils to use. For a nice aroma, 30 drops is best. As the water is used, the aroma will not be as strong—add a few more drops for a heady aroma and therapeutic benefits.
The water goes into the top blue part by removing the tank cap. This is different from most diffusers that add water into the bottom. It works well and the aroma is strong from essential oils. The cord plugs into the side of the bottom base. One button controls on and off, night light off and on or totally off for the blue light. This unit has no timer. It operates until you turn it off or it runs out of water and automatically shuts off.
The area of coverage is about 162-square feet misting 80 mL of moisture each hour. The unit is very quiet at less than 32 dB with a slight fan and water trickle sound that is soothing. It will never keep you awake and will lull the kids to sleep. It has only one misting speed and does not have high, medium, or low. The light color is dark blue and it has no cascading many colored lights. It is advised to put this unit on a tray off the surface of your wood furniture. The mist will leave moisture on top, so be careful because it does not mist straight up, but to the side.
This unit is ideal for a baby's nursery, teenagers room, bedroom, living room, Yoga studio, massage and physical therapy spas, hair and nail salons, hotel lobbies, and to take with you when traveling.
The oils used in this diffuser will remove pet odors, tobacco and smoke smells, and an overabundance of hair spray at the hair salon. Great for visitors walking in to your boutique and specialty shops.
The Homasy is tasteful and well designed to harmonize with any décor. The moisture will help dry skin, dry chapped lips, congested nose, and sinuses. Use the essential oil that is good for mucous membranes, such as sweet orange and lemon. Relax and refresh your environment with the stylish Homasy diffuser.
You can use cold tap water—never warm or hot. Tap water has minerals and lime scale, so distilled water is recommended. Clean the unit with clear distilled vinegar or alcohol or dish detergent with a cotton swab. Clean the transducer, the ring in the bottom carefully. Do not let water get into the air outlet hole on the inside bottom square device or it will destroy the electronics. The unit has rubber feet so it will not slip or fall over on your nightstand, mantel, or kitchen counter. The top sits on the bottom, does not screw or snap on, so be careful. Never leave water in the tank for days because it will grow mold and bacteria that will be harmful to breathe the next time you use it.
Plug the 5-foot UL listed cord into a USA 110/120-Volt outlet; 50/60 Hz, power usage 12-Watts. Output 24-Volts, 0.5-Amp. Outside of the USA in Europe and other countries, it will plug into a 220/240 outlet. This adapter is not D/C; it is A/C only. The diffuser is ETL certified for electrical safety and quality.
The dimensions are 4.25-inches tall x 6.3 inches in diameter and it weighs about 1 pound empty.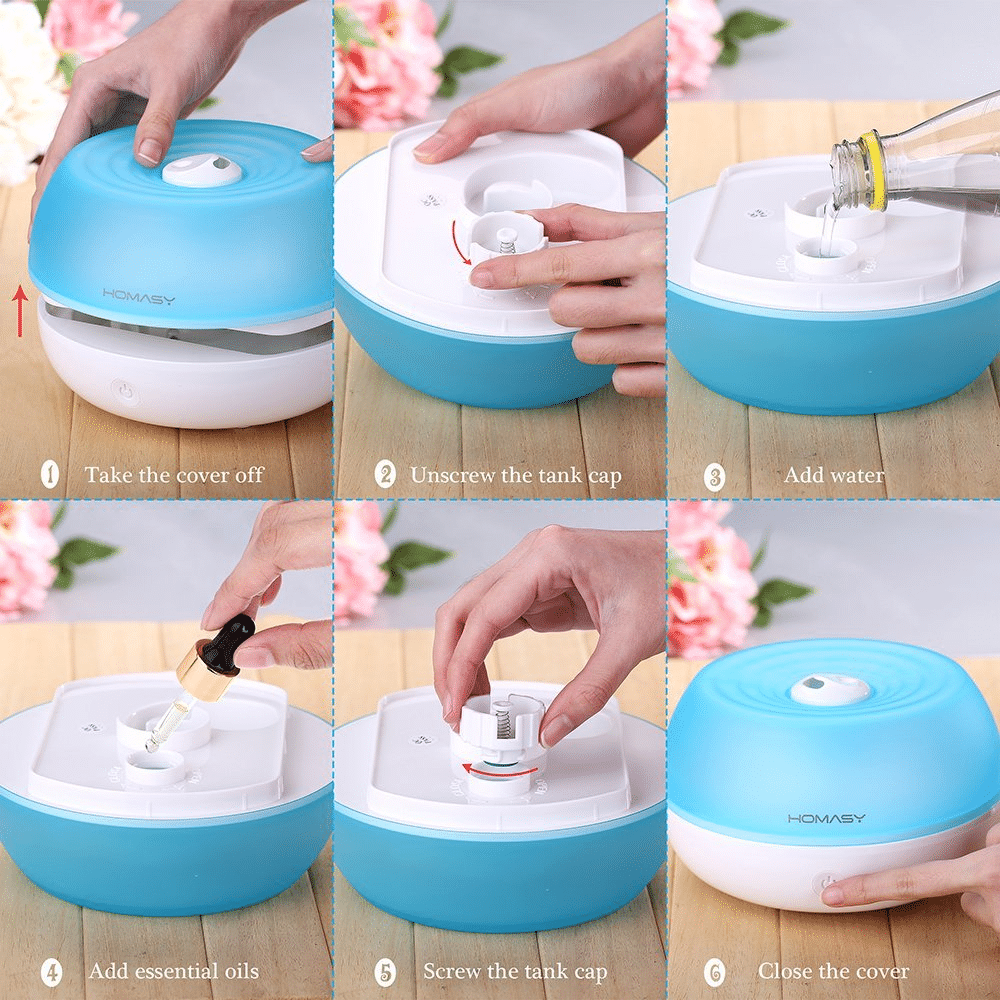 Gift-wrapping is available for a loved one or friend. The Homasy diffuser comes with a User's Manual, an adapter, a 45-day money-back guarantee, and an 18-month hassle-free Warranty.