When you shop for an essential oil diffuser, you want to have many choices from which to make your decision for your needs. The Allay is ZAQ's signature diffuser. The ZAQ Allay LiteMist Ultransmit is beautiful to look at and is a striking feature in any room in your home whether the living room, kitchen, bedroom, child's room, or at the office, salon or spa. The LiteMist aromatherapy system silently mists essential oils into your space and complements any décor. Today, purchase your Allay diffuser and essential oils together receiving all products at the same time to start diffusing.
This is an electric dual voltage 110/220-Volt diffuser and can run on 220-Volts in Europe and other countries.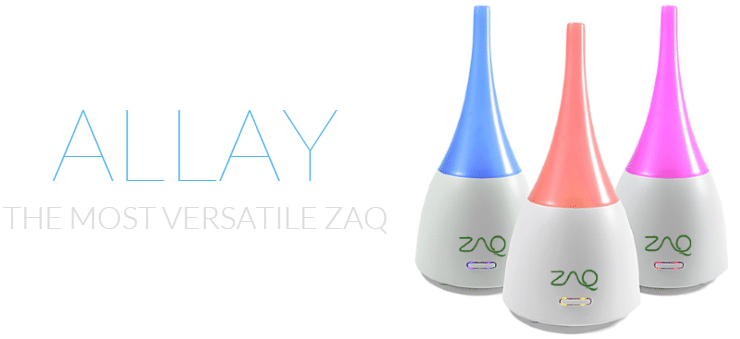 Advanced LiteMist Technology with Automatic Shut Off
The LiteMist Allay shuts off after the water runs out. The reservoir holds 80 mL (2.70 ounces) of water and runs 4 hours covering 200- to 300-square feet. The fragrance drifts throughout an open 2000–square foot space. The power button light stays on. Be sure you use only 100% essential oils. Adding only distilled water to prevent mineral deposit is important.
Ease of Use and Choice of Colors
The bottom half of the diffuser is white and the top part is available in aquamarine blue, orange, or pink. The top cone glows softly with the long-life LED light and will remain off if you choose. The ZAQ Allay is made of durable plastic and is BPA-free meaning there are no toxins. This unit is a cool mist diffuser so will not break down your essential oils from a heating process.
To clean, just remove the top and inner plastic cap and wash in warm soapy water and wipe out the water tank and you're done. It is a mid-sized diffuser about 4.3-inches wide by 8.7-inches tall for an inviting scent to your family, friends, and anyone in the area.
The unit does not beep, has a slight waterfall sound, and when you push the button one time, the button, and the top cone will light up. When you push the button two times, the top cone will not have light but the button will still be lit. This is good for sleeping.
Efficiency
The versatile ZAQ Allay is a primo essential oil diffuser. It incorporates aromatherapy into your daily life for a healthier life using its LiteMist system. The process of diffusing essential oils sends the soothing, relaxing, and invigorating aromatherapy oils into the air for your immediate benefit. The diffuser breaks up the water misting millions of micro-particles forming a mist into the air you breathe. The mist not only is absorbed by your body, but through your skin as well. The active ingredients of the essential oils go to work immediately invigorating and relaxing your body, mind, and spirit energy. Your environment also receives the pleasant aroma. Your dry flaky skin, dry cough, irritated sinuses, and hair will realize the benefits.
What Customers say
The feature most appreciated using the ZAQ Allay diffuser is its ability to automatically shut itself off. That makes it wonderful to use at night in a child's bedroom or your bedroom for safe and secure sleeping with no worries about it burning up. It saves energy as well. Customers attest to the diffuser running for at least 4 hours and sometimes 5 hours as advertised. The price is affordable compared to other brands doing the same thing.
Pros:
Electric with dual voltage: 100/220-Volt for operating in Europe and other countries
Easy to use and clean
Use the diffuser daily requiring cleaning after 3-4 uses
Diffuses fragrance to any room without essential oil breakdown
Designed to hold approximately 80 mL (2.70 ounces) of water
Covers 200- 300-square feet and wafts fragrance further
The amount of oil needed is 5–6 drops
The LED light glows until you press the button to lock in the blue shade
User's Manual included
1-year warranty
Final Thoughts
The ZAQ Allay essential oil diffuser functions great and customers love the simplicity for using it. The diffuser has a charming design and dazzling colors that users love and it can be used anywhere anytime