A whole-house humidifier, what it is, and how it works are discussed here. Portable humidifiers are used frequently in homes during the winter months. They raise room humidity, making it seem warmer, even when the temperature is reduced. Most humidifiers operate by forcing room air through a filter, wick, or belt saturated with water that are kept wet by a motor that continuously keeps it wet from the water in the tank.
The water in the reservoir is replenished by filling it manually or in some models by connecting it permanently to a water line using whole-house or central humidifiers. The low energy consumption of the humidifier is more than offset by the gain in comfort and reduced heating temperatures in the home.
By using only the most mineral free water will greatly benefit your humidifier from minerals in hard water. Cleaning the humidifier thoroughly during the season will help keep it free from mineral buildup, one of the primary causes of problems within this appliance.
How does it know when to turn off and on?
A humidistat is used on most humidifiers to turn the unit off when the surrounding area has reached a certain level of humidity. A humidistat works very much like a thermostat except that it senses moisture in the air rather than the temperature of the air. Set the humidistat to the humidity level preferred and when that level drops in your home the humidistat senses this change and tells the humidifier to turn on. Check the manufacturer's instructions for setting to your home and climate conditions. The instructions will also tell you how to calibrate the outside air for several hours for the prevailing relative humidity in your area. The humidistat should be within 10% of the relative humidity for the day.
Some humidifiers have a heater built into it. This raises the air temperatures slightly above the room temperature. This reheating feature prevents cooling of the moving moist air directly in front of the humidifier.
Many humidifiers have a float style indicator that tells you how much water is left in the reservoir. Some units automatically shut off to let you know it's out of water. These are generally found with the tabletop and portable humidifier units.
Central or Whole-House Humidifier Advantages
This type of humidifier is installed to an existing furnace or a new furnace system. The advantage is once installed, you stop thinking about it. This type is wonderful, requires only changing the filter annually, and setting the humidistat at your thermostat and you are finished. The humidifier will run until you change the settings.
Standalone humidifiers require more maintenance and refilling of water. The central humidifier is plumbed into your home's water supply.
These are more costly to retrofit into an existing furnace, but over the long haul, are cheaper to operate and maintain. The blower on the furnace sends moisture into the entire home.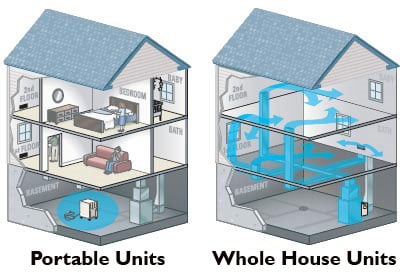 When do You Need a Whole-House Humidifier?
If your skin is dry, you or family members have bleeding noses, your hair is dry with lots of static electricity, you get small shocks when touching door knobs, the baby has the common cold, others have flu symptoms, then it's time for adding humidity to your living environment.
Your healthcare provider will suggest a humidifier and the type for an infant and younger children, to include all adults, and the elderly. Humidity is wonderful for allergy and asthma sufferers and prevents wood furniture and floors from drying out.
Pros and Cons
For improving health, a humidifier is beneficial and cost-effective. When your living environment is too dry, mucous tissue in the nose, sinuses, throat, mouth, and respiratory tract have less moisture that can cause dry crusty nose mucous to form, and the dryness fosters viruses and bacteria to enter your body and thrive. You will need to make a decision on what type of humidifier you want for a central or whole-house system solution for the dry conditions.
Pros
Easily regulated at the wall thermostat unit digitally until you change it
Plumbed directly to your water supply so no worries about adding water
Accurate humidity level is always maintained
Quiet operation running through the furnace via the furnace blower
Value added when selling your house
Cannot be seen, does not take up valuable floor space
Note
Will need to be installed by an HVAC professional , unless a do-it-your-selfer is savvy for the installation requirements
Some manufacturers will not honor its Warranty if not installed by a specialized and qualified licensed HVAC contractor
Hard water minerals will require removal and filters need to be changed or cleaned unless your entire house water supply is using a water softener
Clear distilled (it is not white) vinegar is usually all you need to clean filters and the housing
Bleach is wonderful as a disinfectant for filters
What to Buy
Below is an overview of different types of central humidifiers for your entire house of one floor, multiple floors, and maybe the basement.
Drum humidifiers are the easiest to install and cost the least when purchasing. Install to your furnace's cold air return duct using a motor with a belt to pull cold water from the drum. This creates evaporation of the water and the moving air puts the moisture into your house.
Pros
Easy to install
Affordable
Note
Standing water will produce mold
More maintenance is required
Frequent belt replacement
Flow Through humidifiers install either on the return air duct or on the supply air duct. These humidifiers are mid-priced and functional. Water drips/flows through a filter with the ambient air blowing through the filter using evaporation. This unit requires a water line and the water constantly trickles through.
Pros
No standing water
Mold growth almost zero
Uses no electricity
Note
Water needs to be drained
Mist/Steam humidifiers are the costliest to purchase and are highly efficient producing steam and do not use the evaporation process. These units are available using either cold or hot water. They introduce cold or hot steam via the supply air duct. These utilize a home's plumbing and a water supply tube is attached to the water supply. It needs electricity to operate.
Pros
Mold growth is very low
No standing water to remove
Humidity level easier to control with wall-mounted thermostat with humidity control
The humidity control uses a sophisticated humidistat replacing the existing thermostat
System controls provide enhanced whole-house/central humidified air generation
Note
Hot steam could potentially cause ductwork problems so check with manufacturer's specifications or a qualified HVAC contractor
FAQs and Tips
Evaporative humidifiers are the drum and flow-through types
Mist/steam humidifiers use a mister to emit vapor through the HVAC ducts for a whole-house moisturizing system.
Steam vaporizers are standalone or tabletop units that have heating elements for heating the water into steam to be dispersed into the air. Young children might be burned, so consider that when purchasing this type.
Warm-mist humidifiers use the heat from a home's forced air furnace system for dispersing warm water vapor throughout the entire house.
Cool-mist humidifiers work in a similar fashion to warm the mist humidifiers. The only difference is that they generate a cool mist. Without a heating system, the water is sprayed into the air and can be used in combination with a central air conditioning system.
We hope this guide provides you with enough information to make an informed buying decision for a humidifier for the winter or dry summers in your area.