READ MORE: Relax with the gentle mist using the Quooz Ripple
When you have a pressured anxiety-driven day, treat yourself to a misty fragrant aromatherapy evening, or day, with the QUOOZ Lull Ultrasonic Aromatherapy Essential Oil Diffuser.
Revitalize and invigorate your body, mind, and soul with a few drops of your favorite essential oils, or fragrant oils, using only tap water. The diffuser mist will restore your sense of well-being in moments.
The cool mist will uplift your mood, will benefit colds, flu, sinusitis, and a dry cough. The beautiful QUOOZ Lull has a nice shape and design, long-life LED light, and comes in tangerine, French gray, celery green, rose, and aquamarine colors for visual delights. Get a few for your home, living room, dining room, bath, child's room, office, spa, boutique, or salon. Relax and enjoy the Ultrasonic aromatherapy technology, the best in the marketplace.
The diffuser holds a hefty 200 mL (6.76 ounces) of water that makes your diffuser time operate for 8 to 10 hours. When the reservoir holding water is low, the unit automatically shuts off, saving energy and your peace of mind—a safety feature especially at nighttime.
The glowing LED light is calming and comforting. You can set it from dim to bright, or it can be completely turned off. When you set it to "breathing" mode, it will light up slowing fading in brightness, that makes it essential for meditation and breathing exercises.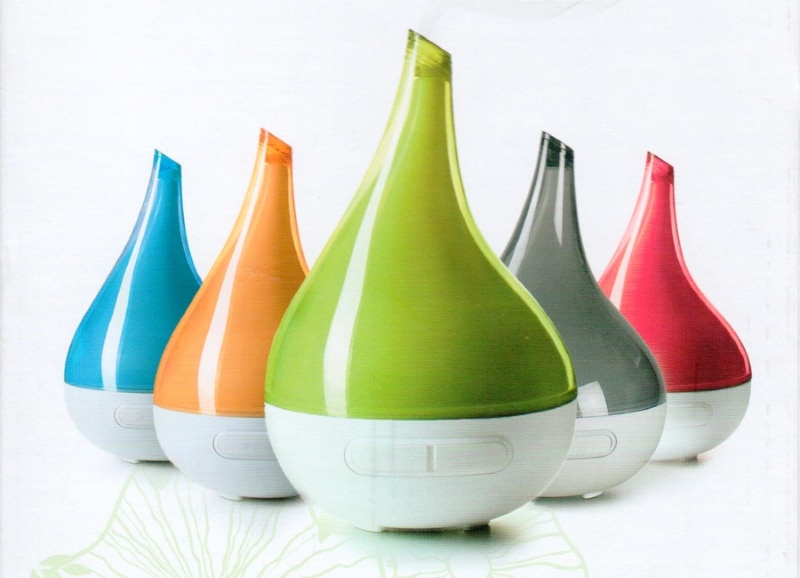 Advanced Technology
With Ultrasonic aromatherapy technology, the QUOOZ Lull utilizes the pure plant extracts of the essential oils that will lull you into a relaxed reverie. It is a better alternative to chemical air fresheners and scented candles, also made of chemical scents that can cause sensitivity and irritation. Using no heat, it maintains the integrity of the essential oils. Just plug it in.
Health Benefits
The QUOOZ Lull can also be used without any essential oils to provide moisturizer (humidity) to your room. This will sooth and heal sinusitis, dry nasal cavities, dry cough, sore throat and helps control asthma. Use regular cold tap water for a beneficial effect with the cool mist moisturizer alone. When you put the diffuser in "breathing" mode, you will have the full effects of the humidity now in the room.
Higher Capacity
The high capacity QUOOZ Lull will have you feeing safe and relaxed, soothed, and calmed knowing it will turn off automatically. With its capacity of 200 mL (6.76 ounces) of water, you will feel confident knowing that you can put it in your child's bedroom, or your bedroom, and it will shut off when the water level is low. Governed by the essential oils that you choose, your mood and spirits will soar and you can ward off any infections. The unit is easy to clean. Its demure flower bud shape is lovely and it is charming in any room. Give this wonderful diffuser to yourself and as a gift to a friend or loved one.
Product Description
Listed here at a glance, are some important features to consider when buying this great diffuser.
Enormous water capacity 200 mL (6.76 ounces)
Operation time is 8 to 10 hours
Area of coverage is up to 300-square feet
Only uses 3 to 5 drops of essential oils to run 8 to 10 hours
Automatically shuts off when water level runs low
Two buttons control the 20-second timer intervals
LED light radiates a soft glow that can be switched into the "breathing" mode with a brightening and fading for a nice ambience
Noiseless operation
No condensation on windows or furniture
Creates a soothing, calming atmosphere while beautifying and moisturizing your skin
Comes with an A/C adapter, User's Manual, and 1-year warranty
Suggestion for use

It is advised to use water-soluble oil in the diffuser and not the synthetic ones. A little dish detergent, water, and a cotton swab will clean out the oil. On the other hand, use a little rubbing alcohol, swish around, drain and let air dry.
What Do Customers Say?
Customers have given glowing reviews on the QUOOZ Lull for its large water capacity and longer time of operation. It continues to operate while awake or sleeping, automatically turning off when the water reservoir is low. The "breathing" mode of this diffuser makes it a worthwhile choice to purchase for aromatherapy and health benefits.
Cons–Motor cleaning is painful because the oils stick on the plastic.
You will find that the QUOOZ Lull Ultrasonic Diffuser is by far the best for those people who want to give up their conventional mister and get something new and easy to use. This one makes you breathe comfortably for longer hours even in the misting mode without essential oils. Customer from USA.
It is a humidifier. Just very very fine mist. Not as strong as a medical humidifier though. I have mine in my family room that is very open. Would be moister air if in a closed room. Customer from USA.
I bought the rose-colored diffuser and love it. The diffuser changes colors, light to darker. I don't know about the green or blue one, but you can stop the diffuser at the shade you like, if you wish. It's a great item. Does what it promises.