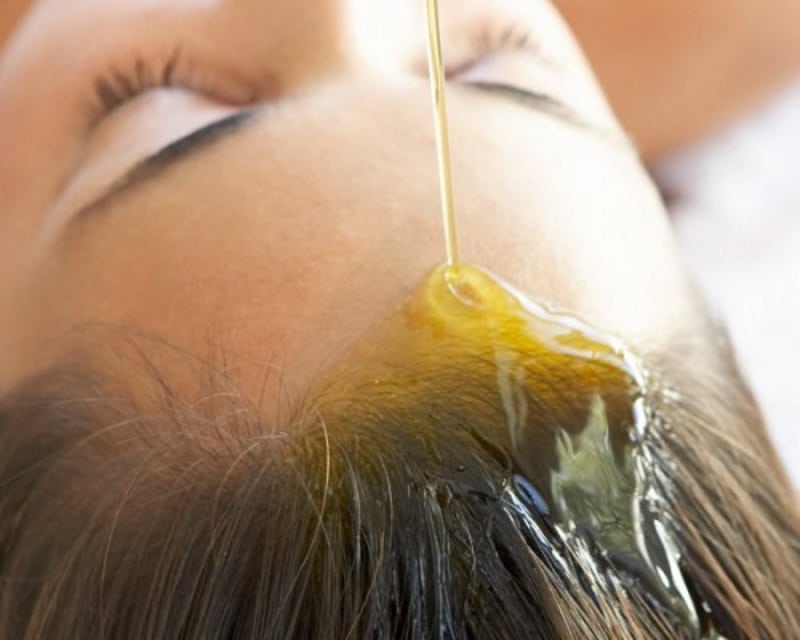 For those suffering from hair loss try using essential oils to balance your hair, hair follicles, and scalp. The best essential oils for hair to support hair health are listed here. When you use strong shampoos, and yes, even conditioners to include blow dryers, curling, and straightening irons, over time the twisting and heat exhausts the oils from your hair. Not to worry—essential oils will put the oil back where it belongs—in your scalp and hair.
Essential oils for spiritual, therapeutic, hygienic and ritualistic purposes dates back to the ancient including Rome, Greece, Egypt, India, and China where they used them for perfume, cosmetics, and drugs. Distilling the plants for essential oils was invented in the 11th century isolating the oils with steam. That method is still used today. Hair care product companies have used lavender, rosemary, tea-tree, and rosemary for years in shampoo and conditioners.
1. Ylang-Ylang
Ylang-Ylang (Cananga odorata), the same as with lavender, is believed to reduce stress and has been used to increase the shaft of the hair to produce hair that is thicker and more luxurious. It is able to balance scalp oil production and this could help with split ends.
2. German Chamomile
German Chamomile (Matricaria chamomilla) is an effective agent in aromatherapy's bag of wonders for reducing inflammation. Sometimes hair loss is due to inflammation of the hair follicles in the scalp. This can lead to less cellular function. Some think that an overheated scalp can cause hair loss. This essential oil is cooling and has an anti-inflammatory effect. The fragrance is light and has a bottom note of pineapple.
3. Lavender
Lavender (Lavandula angustifolia) is in many hair products and hair conditioners. As an essential oil, it is used for reducing inflammation and no steroids are involved. Its anti-bacterial properties are beneficial and it has regenerative properties. It is a favorite oil for reducing stress and encouraging hair growth. Maybe you are stressed enough that your hair is falling out—try lavender for healthful benefits.
4. Rosemary
Rosemary (Rosmarinus officinalis) is a leading essential oil for boosting hair growth. It has seen much success in alopecia areata hair treatment. Use the Verbenone type if you seek the regenerative capabilities of the oil rosemary, found in many preparations for hair and scalp benefits. Thought to increase cellular metabolism, it thereby stimulates healthy hair growth. Used in fragrant perfumes, it is also used to emit its delightful aroma into your room environment. It is also burned as incense and used in shampoo.
5. Helichrysum
Helichrysum (Helichrysum orientale) is believed to be a regenerator for all soft tissues of the body. Helichrysum is the sunflower family and has an earthy fragrance found in blends for both the scalp and hair in commercial products. It is likely regenerative to scalp tissue as well. Some healthcare providers perceive the aging scalp to be similar to scar tissue. It increases circulation and is beneficial as an anti-inflammatory means.
6. Clary Sage
Clary Sage (Salvia sclarea) essential oil promotes hormone balance that is vital for men and women when considering the health of their hair. Clary Sage is thought to balance estrogen levels in the skin and scalp, and can be of help for women after menopause. The distilled essential oil is used in perfumes and it is used in aromatherapy for menstrual-related problems such as cramping and PMS. It helps with insomnia relieving anxiety and fear as well.
7. Jojoba
Jojoba (Simmondsia chinensis) is obtained in many natural hair care products. Jojoba is used for moisturizing and softening dry hair. It is thought to cleanse the follicles of sebum (natural oils), and promote shiny and vibrant hair.
8. Sesame
Sesame (Sesamum indicum) is highly thought of in Ayurvedic medicine in traditional Hindu  medicine to therapy for thousands of years using the oils for massage. Sesame has lignans, chemical compounds found in plants, and used in essential oils. Lignans increase the effectiveness of vitamin E, so it is thought to nurture shiny and thick hair growth. Use it as a 5-minute scalp massage each day without missing a day. Wash hands thoroughly after you are finished, since sesame will irritate mucous membranes such as the eyes and nose.
Treating Hair Loss for Men with Essential Oils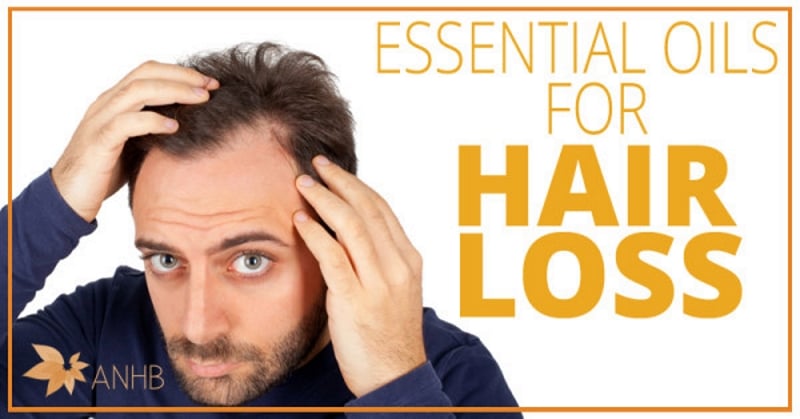 Hair follicles and circulation can be increased with specific essential oils on the scalp for stimulating hair regrowth and might even slow hair loss. Massaging your scalp with thyme, lavender, rosemary, and cedarwood improved hair growth after a few months when used consistently. Aromatherapists and herbalists have prescribed essential oils for many years to treat thinning hair, loss of hair, and certain types of alopecia. When used correctly, the natural oils are tolerated well with no harmful effects.
Directions
Combine thyme, lavender, rosemary, cedarwood, jojoba, and grapeseed oil as a carrier oil, in a small non-plastic bowl or container. For two minutes one time each day, massage gently into you scalp with your fingertips (no nails please).
For the best outcome, wrap your head in a warm towel for 30-40 minutes. The grapeseed and jojoba oils work as a carrier, penetrating and sending the essential oils into your hair follicles. During clinical trials, this method of treatment provided half of most patients with successful regrowth of over half of their hair. A few patients saw complete hair regrowth. Shampoo, rinse, and dry your hair as usual, never rubbing your hair.
Final Thoughts
These are traditional applications for the botanical extracts discussed here. Essential oils are not intended to treat, prevent, or cure any disease. Essential oils are the active ingredients–the essence of the flowers and plants. Essential oils can additionally be added to your shampoo and conditioner to benefit your hair.
For more on uses of essential oils, and different things they can be used for, please check out our complete list of essential oils and what they are used for.